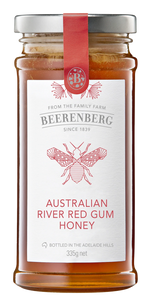 Beerenberg
River Red Gum Honey, Beerenberg 335gms
Regular price
$6.00
$0.00
River red gum honey is a classic Australian eucalypt honey, thick and delicious.

The bees have made it from the nectar of red gums trees growing on the banks of South Australia's creeks, rivers and billabongs (i.e. waterholes or ponds).

Beerenberg has packaged 335gms of this quality river red gum honey into an attractive small glass jar with a re-sealable metal lid.
Beerenberg is, of course, renowned for its high quality products, packaged at the family farm at Hahndorf in the picturesque Adelaide Hills.

In fact, there have now been six generations of the Paech family growing fresh produce and lovingly crafting their famous home-style products at the farm since 1839.

For more information go to www.beerenberg.com.au
---
More from this collection