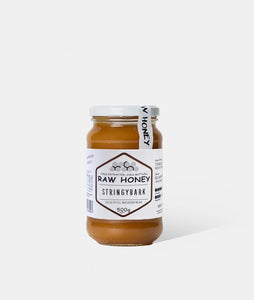 Raw Honey Company
Raw Stringybark honey
Regular price
$10.00
$0.00
This raw, Stringybark honey is a real treat. Its a stronger flavoured, and sweet honey sourced from the nectar of Stringybark (i.e eucalyptus macrorhyncha) trees growing in the Strathbogie state forest in Victoria's north-east.
Its raw because it was extracted and bottled 'cold', without any heating or warming. That makes sure that all the natural flavour and goodness of this 100% pure honey is retained.

Stringybark honey is very popular in Australia and not just because it tastes delicious.Bold, warm and toffee like this is a great honey both for eating as it is or for cooking and baking.  Think Nanna's old-fashioned oat cakes, for example.

The Raw Honey company are a small, family based, apiary with their headquarters and operations in the remote bush country of north central Victoria. They are completely off-the-grid. And they are dedicated to the production of raw, mono-floral honeys to ensure the finest quality product, with maximum of natural health benefits.

Presented in a recyclable glass jar with a re-sealable metal lid this is a delicious honey sure to please everyone.

---
More from this collection