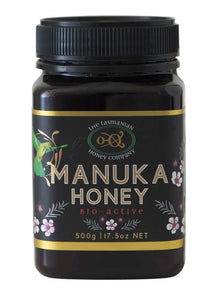 Tasmanian Honey Company
Manuka honey, Bio-active, Tasmanian Honey Company, 500gms
Regular price
$15.00
$0.00
Enjoy the health benefits, great taste and flavour of genuine Tasmanian Manuka honey with this 500gms jar.
Tasmanian Manuka honey comes from the Manuka bush, sometimes called the tea tree bush, whose Latin name is leptospermum scoparium.
Manuka honey typically has a very rich, thick texture as well as a distinctive taste and flavour.
The manuka bush is native to Tasmania and is also found in New Zealand.
Its honey is famous for its anti-microbial, anti-fungal and anti-inflammatory properties. Thats why it is often described as bio-active.
This bio-activity is especially prounounced in Manuka honey.
Of course, all honeys have some initial level of bio-activity, but Manuka honey is one of the few where the levels persist, and don't reduce or dissipate over time.
Scientific analysis has shown that the bioactivity of manuka honey is mostly due to a naturally occuring compound known as methylglyoxal (MGO). This honey has been independently tested to confirm it contains small amounts of methylglyoxal.

About the Producers: The Tasmanian Honey Company is one of Tasmania's leading honey producers. Based at Perth in north western Tasmania, the Company places all its bee hives in Tasmania's remote forests and naturally unpolluted wilderness. The Company is famous for both the fine quality and the typical candied (i.e. creamy) texture of its honeys.
---
More from this collection