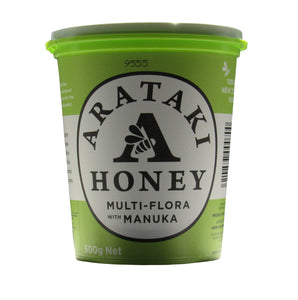 Arataki
Manuka and Multiflora honey, Arataki (NZ) , 500gms
Regular price
$11.00
$0.00
This great tasting Manuka and Multflora honey blend comes from one of New Zealands' best loved honey producers - Arataki.
Since 1944, Arataki has produced a range of high-quality honey products.
Their  Manuka and Multi-Flora honey is a blend of 10% Manuka honey with pasture, clover and bush honey.
Manuka honey is well-known, of course as the dark-brown malty-tasting honey produced from the nectar of New Zealand's famous Manuka or leptospermum bush.
Much of that honey is marketed world-wide because it is highly bio-active and has unique health promoting qualities.
But most Manuka is produced simply because it is delicious.
And when it is blended with New Zealand's typically lighter coloured, more subtly flavoured pasture and bush honeys, the flavour result is really pleasing.
It makes for a great value and versatile honey that many Kiwi's (i.e. New Zealanders) enjoy every day.
Packaged in a hygienic and sturdy, re-cyclable plastic tub, with a re-sealable plastic lid, this is a premium New Zealand product.

For more information go to  www.aratakihoneyhb.co.nz.
---
More from this collection