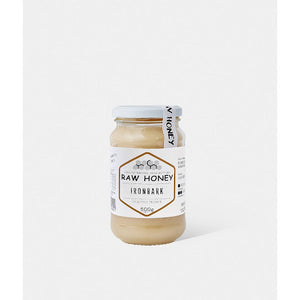 Raw Honey Company
Raw ironbark honey
Regular price
$10.00
$0.00
This raw, ironbark honey is a real treat. Its a delightfully mild flavoured, but still sweet honey sourced from the nectar of ironbark (i.e eucalyptus tricarpa) trees growing in Victoria's Rushworh State Forest.
Its 'raw' honey because it was extracted and bottled 'cold', without any heating or warming. That makes sure that all the natural flavour and goodness of this 100% pure honey is retained.

Ironbark honey is very popular in Australia. It has light and fruity flavour that tastes delicious.

It has a smooth creamy texture because it crystallizes into very fine and small crystals. That means its still easy to use and get on to your spoon.
The Raw Honey company are a small, family based, apiary with their headquarters and operations in the remote bush country of north central Victoria. They are completely off-the-grid. And they are dedicated to the production of raw, mono-floral honeys to ensure the finest quality product, with maximum of natural health benefits.

Presented in a recyclable glass jar with a re-sealable metal lid this is a delicious honey sure to please everyone.

---
More from this collection