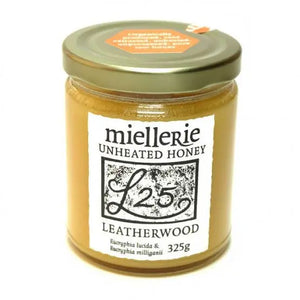 Miellerie
Leatherwood honey, Miellerie, Unheated, 325gms
Regular price
$9.00
$0.00
Beekeeper - Yves Ginat, produces his fantastic leatherwood honeys in the traditional French style.
Thats why he calls his business the house of honey, or Miellerie in French.
He has a passionate commitment to truly authentic tastes and flavour in his honeys.
And his genuine Tasmanian leatherwood honey certainly has a magnificent aroma and a luscious taste and texture.
His leatherwood honey has been 100% organically produced, so it has not been pasteurised or heated.
Indeed it is a wholly unprocessed, cold-extracted, raw honey.
That means the honey retains all its essential goodness, and the all health promoting vitality that the bees created it with.
With its creamy and buttery texture, this honey is presented in a traditional French fashion.
Hand-crafted by a genuine artisan bee-keeper, this is a rare, beautiful and absolutely delicious honey.
Choose from a 325gms or 900gms jar.
---
More from this collection