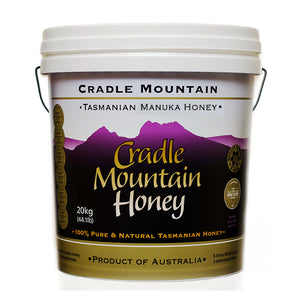 Australian Honey Products
Tasmanian Manuka honey, Cradle Mountain, East Coast Manuka, 20kg tub,
Regular price
$237.00
$0.00
Manuka honey is produced from the flowers of the Manuka bush (also sometimes known as tea-tree, latin name - Leptospermum scoparium) which is native to Tasmania. It is also found in certain parts of the southern Australian mainland, and throughout New Zealand.
Scientific studies have found that much Manuka honey has natural therapeutic properties. It also has a distinctive rich flavour and thick, creamy texture. Typically golden brown in colour, it will grow even darker and thicker with age.

This 20kg bulk tub contains honey harvested from Manuka bushes growing wild in east coast regions of Tasmanian.
The tub is made from food-grade plastic and features a built in carry handle. As with all bulk honey it is normally supplied in a solid (i.e. crystallized) form. Please advise if it is required liquid.
Please note delivery is direct from the warehouse in Tasmania using Australia Post's parcel post service. Delivery will normally take take 7-10 working days.

Precise delivery costs will vary depending on location.
As a guide, delivery will add an extra $40 for each tub to Melbourne, $45 for each tub to Sydney or Adelaide and $50 for each tub to Brisbane. Delivery addresses outside of capital cities may add an extra $20-$25 per tub.
Please also note that if you want to buy more than two tubs, you'll need to buy them in separate orders. At the moment the checkout freight options are limited to two tubs per order.
---
More from this collection