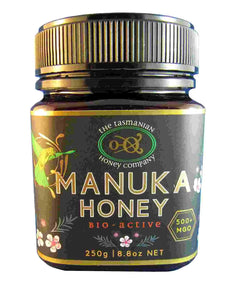 Tasmanian Honey Company
Manuka honey, MGO 500+, Tasmanian Honey Company, 250gms
Regular price
$34.00
$0.00
Great tasting, and health promoting Manuka honey, with a guaranteed MGO rating of 500+.
Thats what the Tasmanian Honey Company has delivered in this 250gram package of highly active Manuka honey.
This is pure, natural honey that not only promotes good health, it tastes great as well.
Its source is  the nectar of Manuka bushes growing naturally in Tasmania's pristine wilderness.
Each batch has been tested in an independent laboratory to confirm it contains at least 500mgs in every kilogram of the natural anti-bacterial agent - Methylglyoxal (or MGO).
Most manuka honeys are considerably less powerful than this one, which is why it is both expensive and only available in limited quantities.
With this high MGO content this is a strong Manuka honey which should prove highly effective in dealing with sore throats, colds and skin complaints and in the healing of skin rashes, abrasions, scars and minor wounds.
It can also be used to address digestive issues, stomach ulcers, and bowel conditions.
Packaged in a hygienic 250gms PET jar; featuring a beautiful graphic design, this honey not only tastes good but is genuinely good for you.


---
More from this collection