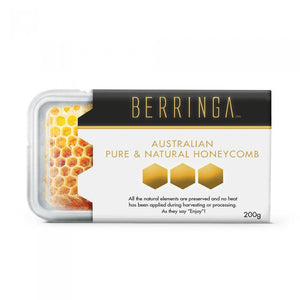 Berringa
Berringa Pure Natural Honeycomb, 200gms
Regular price
$14.00
$0.00
Berringa's pure and natural honeycomb is a delicious 200gm chunk of honeycomb cut direct from the hive. 
It comes with the honey still stored where the bees put it - in the honeycomb.
Lots of honey lovers prefer to get their honey still in the comb. Its an absolute guarantee of purity and freshness.
Many people also like to eat honeycomb to enjoy the minerals and vitamins found in the wax.
And others love to serve honeycomb as an after dinner dessert, perhaps on a cheese board, or a fruit platter.
However you enjoy your honeycomb you can rest assured that this Australian honeycomb is absolutely delicious.
Presented in an hygienic and re-sealable plastic container, the package is cellophane sealed to give you an extra guarantee of product quality and purity.
---
More from this collection