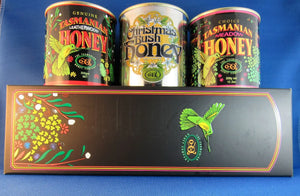 Tasmanian Honey Company
Gift box, Tasmanian honey, 3 * 350gms tins
Regular price
$25.00
$0.00
Give the gift of honey with this special gift box containing three different types of Tasmanian honey - leatherwood honey, meadow honey and christmas bush honey.
The three different tins each contain 350gms of quality honey from the Tasmania Honey Company.
And both the tins and the box itself, are beautifully decorated and presented, making this a wonderful gift.
Leatherwood honey has, of course, a unique and delicious flavour with a fantastic sweet floral bouquet.
But Tasmanian meadow honey is also delicious. Sweet but not overpowering it has a lovely hint of fruity zest.
And christmas bush honey, (sometimes known as prickly box) has an unusual and wonderful flavour. Some describe it as marzipan like, whilst others suggest an almondy flavour.
Like all the Tasmanian Honey Companys' products these are one hundred percent natural honeys.
They've been extracted at low temperatures and have a lovely creamy, almost buttery texture.
With their great taste and smooth consistency these honeys feel wonderful in your mouth.
Why not treat yourself, or someone you love, to the unique experience of Tasmanian honey.


---
More from this collection