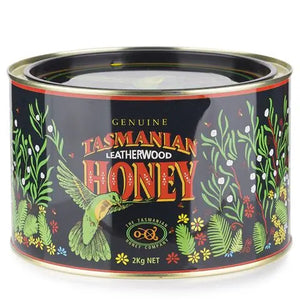 Tasmanian Honey Company
Leatherwood honey, Tasmanian Honey Company, 2kg tin
Regular price
$40.00
$0.00
Every Australian should be proud of leatherwood honey, and not just because it is delicious.
It is abolutely unique to Australia and is undoubtedly one of the world's finest honeys.
The flavour of leatherwood honey is simply magical - a little bit peppery or spicy, at the same as its sweet and tangy.
Certainly its a very special flavour and difficult to compare with any other honey.
It also has an incredible, intense and lovely smell.
Perfumed is how I describe it.
The story of leatherwood honey and the tree it comes from (
Eucryphia Lucida
) is also amazing. The only place it grows is in Tasmania. And they've been growing there since pre-historic times.
Fossil records indicate they've been here for perhaps 35,000 years - since the time of Gondwanaland.
They reach a great age, up to 350 years old. And they don't even begin flowering until they are at least 60.
The flowers emerge every year between January and mid March and have an intense perfumed nectar.
That perfumed scent, along with its distinctive flavour, is why leatherwood honey is sought after by honey lovers around the world.
The Tasmanian Honey Company  extracts and packages the leatherwood honey at a maximum of 45 degrees. This ensures it retains all of its natural flavours and goodness.
They also aerate and stir the honey to give it a creamy consistency and soft, smooth texture.
It feels wonderful in your mouth and simply melts on your tongue.
Packaged in a re-sealable steel tin,  featuring a beautiful graphic design, this is a very, very special honey.
Stock up to make sure you're never short of leatherwood honey with this 2kg tin.


---
More from this collection
Leatherwood honey
Very easy to navigate website and very fast service and always receive my order on time or before time would recommend tasty honey to anyone
Tasty Honey
Great price / great honey and fantastic customer service