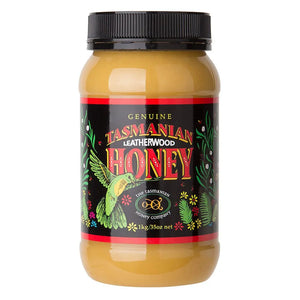 Tasmanian Honey Company
Leatherwood honey, Tasmanian Honey Company, 1kg jar
Regular price
$19.00
$0.00
You haven't lived if you've never savoured the unique and delicious flavour of genuine Tasmanian leatherwood honey.
Spicy, piquant, tangy - its unlike any other you've tasted.
And not only does it taste great, it also smells fantastic.
Its almost like a perfume with a wonderful sweet and aromatic bouquet.
The bees create leatherwood honey from the blossoms of Tasmania's leatherwood trees (latin name - Eucryphia Lucida).
Found only in the pristine rainforest wilderness of western Tasmania,  leatherwood trees are ancient, and can grow very old.
(In fact the fossil record suggests they were already growing at the time of Gondwanaland, some 35,000 years ago.)
Once a year the Tasmanian Honey Company's beekeepers head into the wilderness to collect this very special honey.
And when they bring it back for extraction they make sure it is done at no more than 45 degrees.
(The low temperature processing ensures the leatherwood honey retains all of its natural vitamins, flavours and goodness. )
The company's special harvesting process aerates the honey as it is packed to give the honey a creamy, soft texture and consistency.
Sometimes known as 'candied' honey (or 'Fancy Grade' in America) this honey feels wonderful in your mouth. You can also be sure with this honey that it is 100% natural and has never been diluted with syrup.
With an exceptionally long shelf-life, the Tasmanian Honey Company's leatherwood honey remains good to eat virtually for ever.
Packaged in a recyclable PET plastic jar; featuring a beautiful graphic design, this honey tastes as good as it looks.


---
More from this collection
Leatherwood honey, Tasmanian Honey Company, 1kg jar