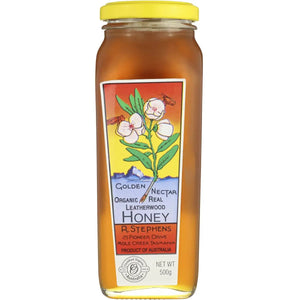 R Stephens
Leatherwood honey, organic, R Stephens, 500gms-bottle
Regular price
$8.00
$0.00
Leatherwood honey is sought after by connoisseurs the world over because of its distinctive, great taste, and wonderful fragrance.
It is also amongst the world's rarest honeys because leatherwood trees only grow in Tasmania's forest wilderness.
R Stephens is Tasmania's oldest and largest producer of leatherwood honey. Their beekeepers travel long-distances into the remote wild forests of northern Tasmania to harvest the leatherwood honey.
The remote location of the hives means that R Stephens Golden Nectar real leatherwood honey is certified organic.
Packaged in a distinctively-shaped, reusable glass jar, featuring an attractive floral design on its front label, this 500gram jar of delicious sweet honey is the essence of Tasmania.
---
More from this collection
Stephen's Leatherwood Honey
The Chardonnay of Australian honey