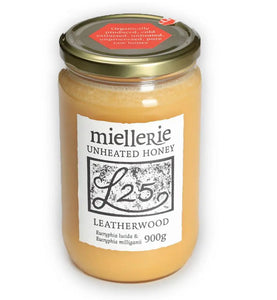 Miellerie
Leatherwood honey, Miellerie, Unheated, 900gms
Regular price
$17.00
$0.00
Miellerie's leatherwood honey reflects the passionate commitment of its beekeeper.

Yves Ginat draws on his French heritage to create truly wonderful honeys, with magnificent flavours, sensational fragrance and luscious textures.
Miellerie means honey house in French and Yves has produces all his honeys in the traditional French style.
So this genuine Tasmanian leatherwood honey has been wholly organically produced.
It is cold-extracted and has never been pasteurised or heated. So it is totally raw honey, retaining all the goodness, and the health promoting vitality that the bees created it with.
With its creamy and buttery texture, this is a really special honey.
Hand-crafted by an artisan bee-keeper, this is a rare, beautiful and absolutely delicious honey.
Packaged in a glass jar with net weight 900gms.
Also available in a smaller jar with net weight 325gms
---
More from this collection
Excellent
High quality honey, prepared with care.
Out of this World
If you like leatherwood honey with its distinctive flavour, then you will just love Miellerie's honey. It's the best. I won't buy anything else.
Miellerie Leatherwood honey
I get 5 different brands of leatherwood honey from Tasty Honey. Out of those brands, the Miellerie Leatherwood honey has become my favourite. It has a strong sweet smell and strong leatherwwod honey fruity flavour that stands above the rest. It is delicious on bread or toast and a spoonful in a cup of coffee or tea instead of sugar is fabulous.
Best honey on the planet!
I absolutely love Miellerie Leatherwood honey. And the way I am looked after by Tasty Honey with my orders since moving back to Melbourne from Tassie, has been sensational. 😌😌
Deeeeee…lish!
Absolutely beautiful, hand-crafted raw honey with the most amazing flavour. Very happy with the taste and quality.