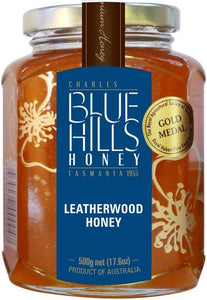 Blue Hills Honey
Leatherwood honey, Blue Hills, 500gms
Regular price
$9.00
Sale price
$11.00
Blue Hills genuine Tasmanian leatherwood is a pure, delicious and fragrant honey.
It smells just divine, and much like a precious expensive perfume.
Of course, the distinctive flavour of leatherwood honey is ultimately what makes this honey so special and so highly-sought after all over the world.
Some describe it as spicy, others taste hints of pepper.
One thing all agree on however, is that leatherwood honey is absolutely delicious.
Sweet, rich and with a lingering magical after taste, this is surely Australia's finest honey.
Packed in an attractive glass jar, with metal-sealed lid, this 500gram jar of leatherwood honey is a premium Australian food product.
Note: This honey candies readily because it is completely natural, raw and has been cold-extracted. It can be returned to a liquid state with gentle warming, but loses none of its taste, flavour or goodness when it candies (i.e crystallizes).
---
More from this collection