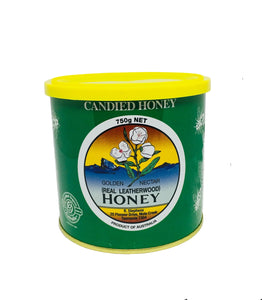 R Stephens
Candied Leatherwood honey, organic, R Stephens, 750gms tin
Regular price
$16.00
$0.00
Delicious candied leatherwood honey in a 750gms tin from Tasmania's R Stephens.
R Stephens is Tasmania's (and Australia's) largest producer of leatherwood honey, and one of the few producers to make its leatherwood honey available in this firm, candied style.
This is 100% pure honey with no additives, chemicals, colouring or anything artificial.
But its firm textured, not  liquid, or runny. Thats because it has been encouraged to crystallize, as all honey eventually does. And then, whilst its crystallizing, its been carefully stirred to give it the fine, thick texture of candied honey.
Many  honey lovers prefer their honey to be already candied. Like creamed honey, its easier to use, to store and to handle than liquid honey. There's less spillage, less chance of a mess, and it is easier to spread with a knife.
This is a genuine leatherwood honey so it has all the delicious and unique flavour of Tasmanian leatherwood honey. It  has a lovely, sweet perfume and an intense, appealing taste.
The honey is presented in an attractive re-sealable 750gms tin. 
---
More from this collection