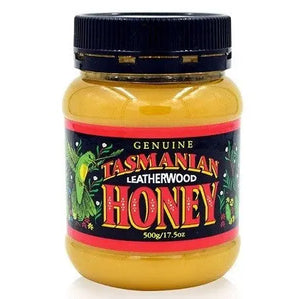 Tasmanian Honey Company
Leatherwood honey, Tasmanian Honey Company, 500gm jar
Regular price
$10.00
$0.00
If you're looking for a special honey then go no further. Because leatherwood honey is a very special Australia honey.
It has a wonderful and delicious flavour. Its spicy, its tangy, its peppery - its not like any other you've ever tasted.
Even better, it smells divine, with a wonderful intense perfume.
The honey comes from Tasmania's leatherwood trees (latin name - Eucryphia Lucida). These rare trees are only found in the pristine rainforest wilderness of western Tasmania, and can live for hundreds of years. Indeed they only start to flower once they've reached around 60 years old.
The Tasmanian Honey Company  keeps its bees near these trees in the remote wild forests of Tasmania. And every year its beekeepers make the long and difficult trek into those forests to harvest the honey.
When they bring it back they extract the honey at a maximum of 45 degrees to ensure its loses none of its special characteristics and to make sure it keeps all of its natural vitamins, enzymes and flavinoids.
Its not liquid, but neither is it firm like creamed honey. Its sort of halfway between. So it feels like its melting in your mouth. Yummm!!
With an exceptionally long shelf-life, the Tasmanian Honey Company's leatherwood honey remains good to eat virtually for ever.
Packaged in a recyclable PET plastic jar; featuring a beautiful graphic design, this honey is very special.
As a uniquely Australian product, it also makes an ideal gift.
---
More from this collection