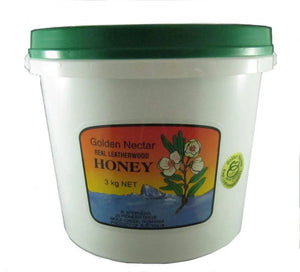 R Stephens
Leatherwood honey, organic, R Stephens, 3kg tub
Regular price
$41.00
$0.00
Make sure that your pantry is always well-stocked with this 3kg tub of delicious organic, leatherwood honey from R Stephens.
Tasmania's (and Australia's) largest producer of leatherwood honey, R Stephens' leatherwood honey is certified organic by the Organic Food Chain
So this is 100% pure honey. It contains no additives, chemicals, colouring, gluten, or anything artificial.
Moreover it has all the delicious and unique flavour of Tasmanian leatherwood honey. Sought after by connoisseurs the world over this wonderful honey has a lovely, sweet perfume and an intense, appealing taste.
This is a 3 kilogram tub of Stephens leatherwood honey.
Made of hygienic food grade plastic, the tub is sturdy and has a built-in handle for convenience and ease of use.
It also has a re-sealable plastic green lid to ensure the honey stays fresh and ready to eat whenever you need it.
---
More from this collection
Easy way to get leatherwood honey
The best leatherwood honey at a good price.. what more can you want?