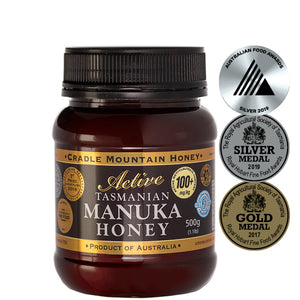 Australian Honey Products
Manuka honey, 100+, Cradle Mountain, 500gms
Regular price
$20.00
$0.00
Cradle Mountain Manuka honey is a bioactive, pure Tasmanian honey that tastes great as well as being good for you.
It has been proved by independently tested by accredited scientific laboratories to have a methylglyoxal (MGO) rating of at least 100+.
This means Cradle Mountain Active Manuka honey contains a naturally high level of MGO - the ingredient that makes honey bio-active.
Eating one or two spoonfuls of this honey every day can help kill unwanted microbes and bacteria in your system.
And it can help stave off the worst of a cold, flu or sore throat.
Its health benefits also include a prebiotic effect, that helps to maintain a healthy digestive system.
This is an award -winning honey produced by one of Tasmania's leading honey exporters - Australian Honey Products.
It has been certified organic by the Organic Food Chain which means it is sourced from pristine forests. at least 5km distant from any man-made or non-natural areas. 
So why not eat your way to sweet good health with Cradle Mountain Active Manuka pure Australian organic honey.
Note: The Organic Food Chain Pty Ltd (OFC) is an approved organic certifying organisation recognised by the Australian govenrment's Department of Agriculture, Water and the Environment under The Export Control (Organic Produce Certification) Orders
For more information go to:
www.organicfoodchain.com.au
---
More from this collection