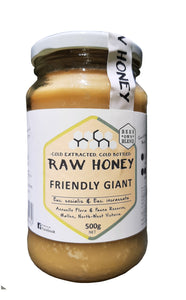 Raw Honey Company
Friendly Giant raw honey
Regular price
$8.00
$0.00
This delightful raw, light honey is sourced from the flowering desert eucalypt trees growing in the Annuello Flora & Fauna Reserve in the Mallee region in the far north west of Victoria.

Specifically, the bees made this honey from two different eucalypts -  the giant mallee (eucalyptus incrassata) and the red mallee (eucalyptus socialis)

It rates one out of five for strength and two out of five for sweetness on the Raw Honey Company's flavour rating scale. That means its a mild, flavoured, but still sweet honey.
Its raw because it was extracted and bottled 'cold', without any heating or warming. That makes sure that all the natural flavour and goodness of this 100% pure honey is retained.

Like all genuine raw and unheated honeys, this honey naturally has a crystallized form. But the crystals are fine and small, so its texture is much like a creamed honey.

The Raw Honey company are a small, family based, apiary with their headquarters and operations near Nalinga in the remote bush country of north central Victoria. They're totally off the grid, and dedicated to the production of healthy, natural raw honeys. 
Presented in a recyclable glass jar with a re-sealable metal lid this is a delicious honey sure to please even the most discerning honey lover.

---
More from this collection