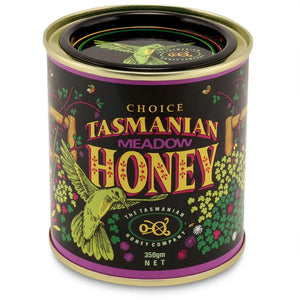 Tasmanian Honey Company
Meadow honey, Tasmanian, 350gms
Regular price
$9.00
$0.00
Tasmanian meadow honey has a delicate, mild flavour with a hint of fruity zest.

The honey is made from the flowers that bloom in the rich dairy pastures and meadows of Tasmania.
Like all the Tasmanian Honey Company's quality honey products, the honey has been aerated to give it a creamy, smooth texture, sometimes described as Fancy grade or candied honey.
The texture means the honey has a consistency half-way between liquid and firm. It makes the honey both easy to handle and even easier to eat because it simply melts in your mouth.
100% natural honey, this pure Tasmanian meadow honey has been extracted at low temperatures to ensure it retains all its natural flavours and goodness.

Beautifully presented in a resealable metal can, this 350gms package of Tasmanian meadow honey is a premium quality product sure to please all palates.
---
More from this collection