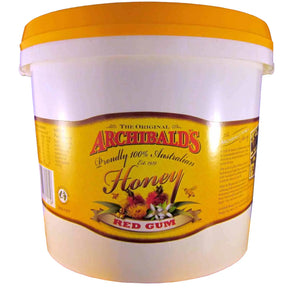 Archibalds
Archibalds Red Gum honey, 3kg
Regular price
$31.00
$0.00
This delicious honey is derived from the flowers and nectar of the Red gum, tree (Eucalyptus Camaldulensis).
It has a lovely thick consistency, warm golden colour and a delicious sweet flavour.
Red gum honey is ideal for spreading on sandwiches, toast or crumpets, and adds extra flavour to stir-fried Asian dishes.
It can also sweeten hot drinks, and many Australians love to drizzle it over their breakfast cereal,  or smother their porridge or oats with it.
So this is an all-rounder honey, suitable for all the family.
This 3 kilogram package of 100% Australian red gum honey is packed in a sturdy and hygienic plastic tub with a re-sealable top.
It has a convenient built in carrying handle.
Perfect for your kitchen or cupboard to make sure you are well-stocked with your favourite honey.
---
More from this collection