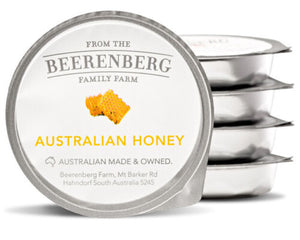 Beerenberg
Beerenberg honey, box of 120 * 14gms single-serve catering portions,
Regular price
$30.00
$0.00
Beerenberg's quality Australian honey sachets are single-serve packages of pure, natural Australian honey.
They're supplied in convenient display/dispenser boxes containing 120 * 14gms individual portions.
Each individual portion is designed to be a single serve of quality Australian honey. They have a net weight of 14gms, and are hygienically sealed in a clear plastic, oval shaped container, with an easy peel seal.
Containing pure Australian honey, these portions are a premium product, suitable for all cafe, restaurant, hotel or other food service application.
Why not get some for for your cafe, restaurant, hotel/motel or BnB.
Your customers will appreciate the superior flavour, and quality of a genuine Australian honey from the famous Beerenberg farms in Hahndorf, South Australia.
Best before August 2024
{Note: Packaging was re-designed in 2023 into a new more convenient cup form and box size.}
---
More from this collection